Going Forward With Flexible Working
As companies look to settle into a more consistent way of working in 2022, several clients have asked us what sort of flexibility are other FMCG companies offering to their employees? And what flexibility are candidates looking for when seeking a new role?
Two very important questions. Especially when it comes to hiring and retaining talent. With a lot more vacancies in the market, candidates can afford to be more selective over what they want from their employer.
We surveyed over 50 FMCG businesses to get an indication of the flexibility that is being offered to employees within the industry. Offering the right flexibility is key when it comes attracting and retaining the best talent and we found that there are two key strategies that businesses are adopting. Big businesses (500+ employees) are going down the structured-hybrid-working route where thy will typically require their employees to be in the business for a set number of days. From our research we found that roughly one in two big businesses were asking people to go back to the office for 2-3 days per week. Small Businesses (11-50 employees) are being much more flexible with 1 in 2 companies offering their employees complete flexibility on where they work.
It would seem that small businesses have the edge by offering this level of flexibility and this certainly could be the case. One thing we found, however was that where complete flexibility was offered, over 70% of businesses surveyed would actually prefer their business to have a minimum requirement of 1-2 days a week in the office. The businesses that thought their policy was the best option were businesses that had a minimum requirement of 1 day (67%) or 2 days (50%),
You can view the full results below.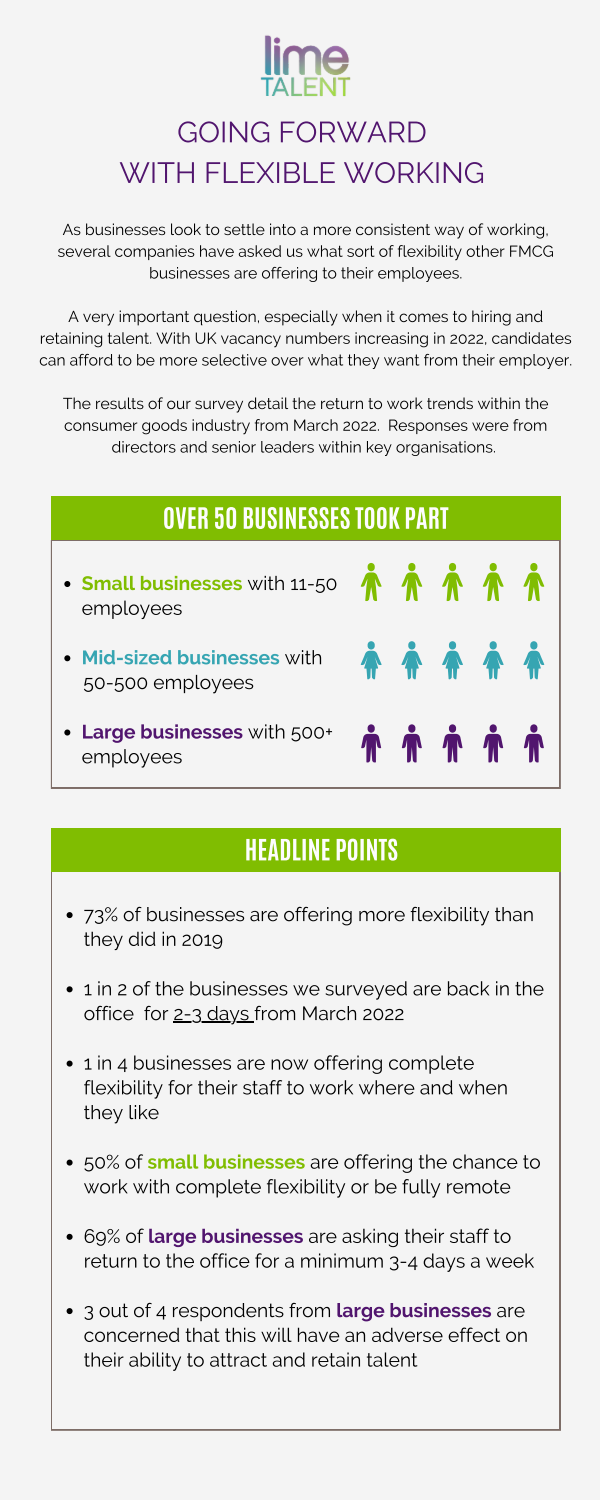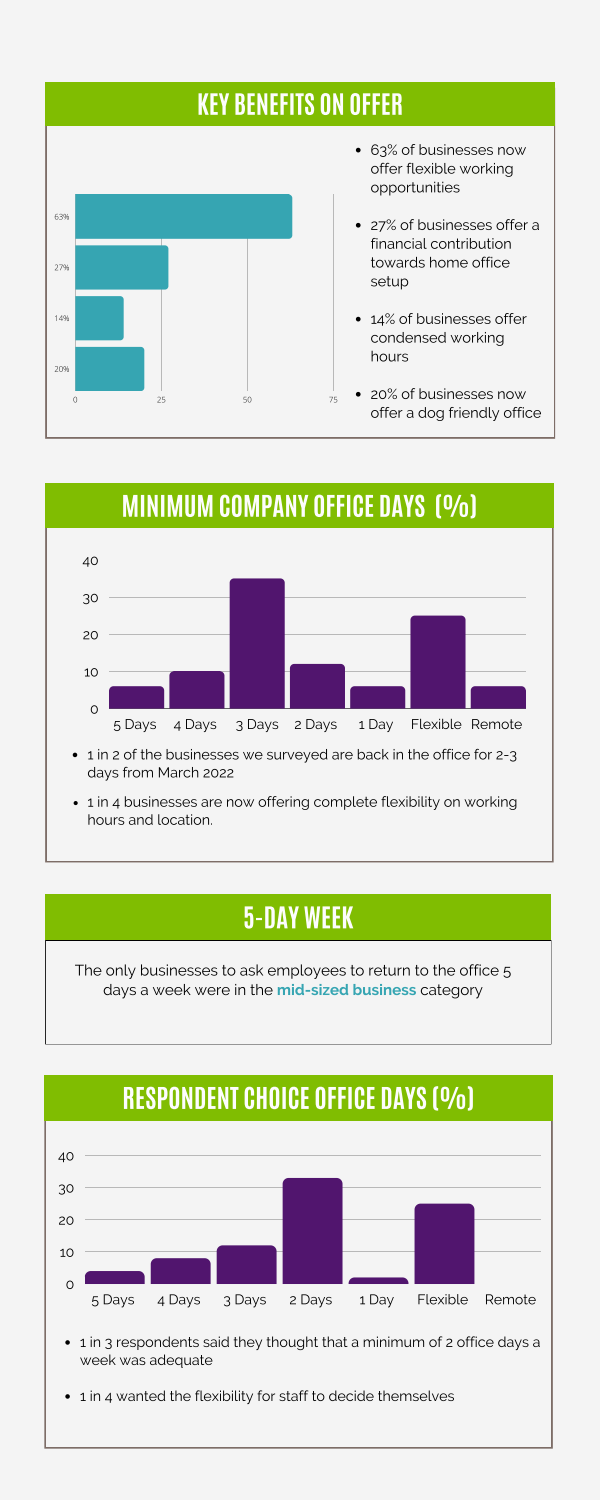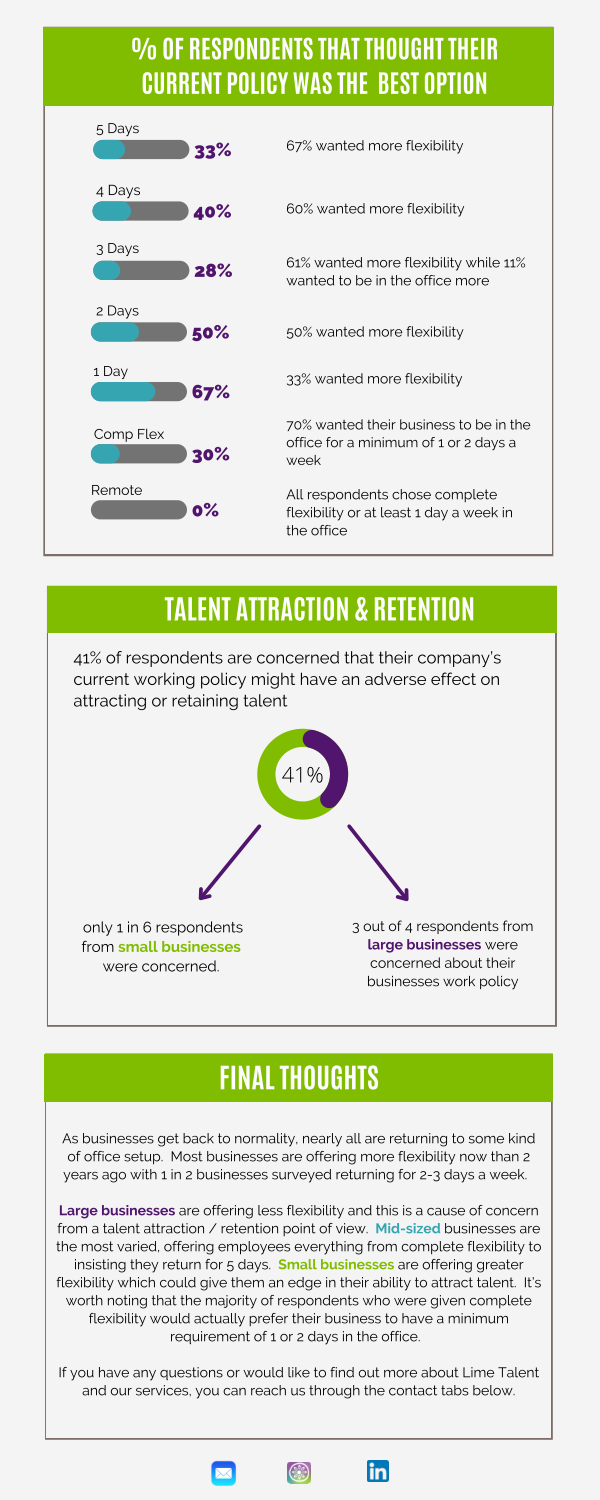 To learn more about our strategic approach to your senior hiring needs, contact Lime Talent to discuss.